2020: Year In Review
My 1SecondEveryday video - my 8th year doing it!
At the end of every year, I try to take some time to reflect on how I spent my year. It's a time for me to take stock of how I've progressed in both my personal and my professional life, and a time for me to set goals for the new year. 2020 was an unusual year, to say the least. Any of the plans or expectations I had for 2020 went out the window once the world descended into a global pandemic.
2020 presented a bunch of unexpected challenges, so this exercise has been especially interesting to reflect on how I was able to deal with them. I didn't meet many of the goals I set, but I learned a lot more about myself, my limits, and my resilience. Let's dig in.
---
Personal
The Before Times™
January 2020 feels like a lifetime ago. Then, I had never used Zoom, the only mask I'd worn was a ski mask, finding a conference room at work was a blood sport, and the only folks I saw eating outdoors in NYC in January were rats and pigeons.
The year started off well. I did my annual year-in-review and made new resolutions. I took a trip out to San Francisco for work, did an annual ski house trip with my best friends, celebrated Chinese New Year with family, and saw a bunch of friends (and reconnected with some old ones!). At work, my projects were chugging along and the culmination of a year's work was just on the horizon.
By the end of the quarter, I was making steady progress on my reading goal and ramping up the frequency on my workouts. Things were humming along until...
Quarantine
In a blink of an eye, everything turned upside down. One week, we were hearing about Wuhan, the next Italy, and all of a sudden the entire country shut down to stop the spread of the virus.
March and April were….really disorienting. We had to learn how to work from home, all while learning how to deal with a global pandemic and a virus no one seemed to know much about. It was hard to look away from the news (we knew so little!), especially while stuck at home with very little to do. The months since have been just as disorienting, but in different ways. Some aspects got better, while others worsened. Some parts of it have been tolerable, but some have been extremely difficult and isolating.
Still, I consider myself lucky and it has been humbling to not be more affected by the pandemic. I am incredibly grateful that I have been able to work from home, adjusting to remote work without having to navigate/juggle additional roles as a parent/caretaker. I got to spend quarantine with my amazing wife, in a home that we love to spend time in. I recognize my blessings and am so thankful.
So, with all that said, here are some of the things that were positive 👍, negative 👎, and 🤷‍♂️:
👍 Reignited Hobbies
A positive that came out of this year is my renewed passion for two of my hobbies: cycling and photography.
I had been eyeing a bike trainer for the past few years so that I could ride my bike indoors during the cold, slushy NYC winter months. Once quarantine hit, I bit the bullet so that I could have some physical activity while at home. The bike trainer was one of the best purchases I've made. It gave me back some sanity during the early months of quarantine – allowing me to control something when so much felt out of and make progress on something when the world suspended. More about cycling a few sections below.
I also started spending some more time honing my photo skills. I upgraded my camera (from a Sony a6000 to a Fuji X-T4) in anticipation of a trip we were supposed to take but was lockdown-cancelled. The silver lining was that getting the new camera got me excited to take photos with it and invest in learning how to edit my photos well.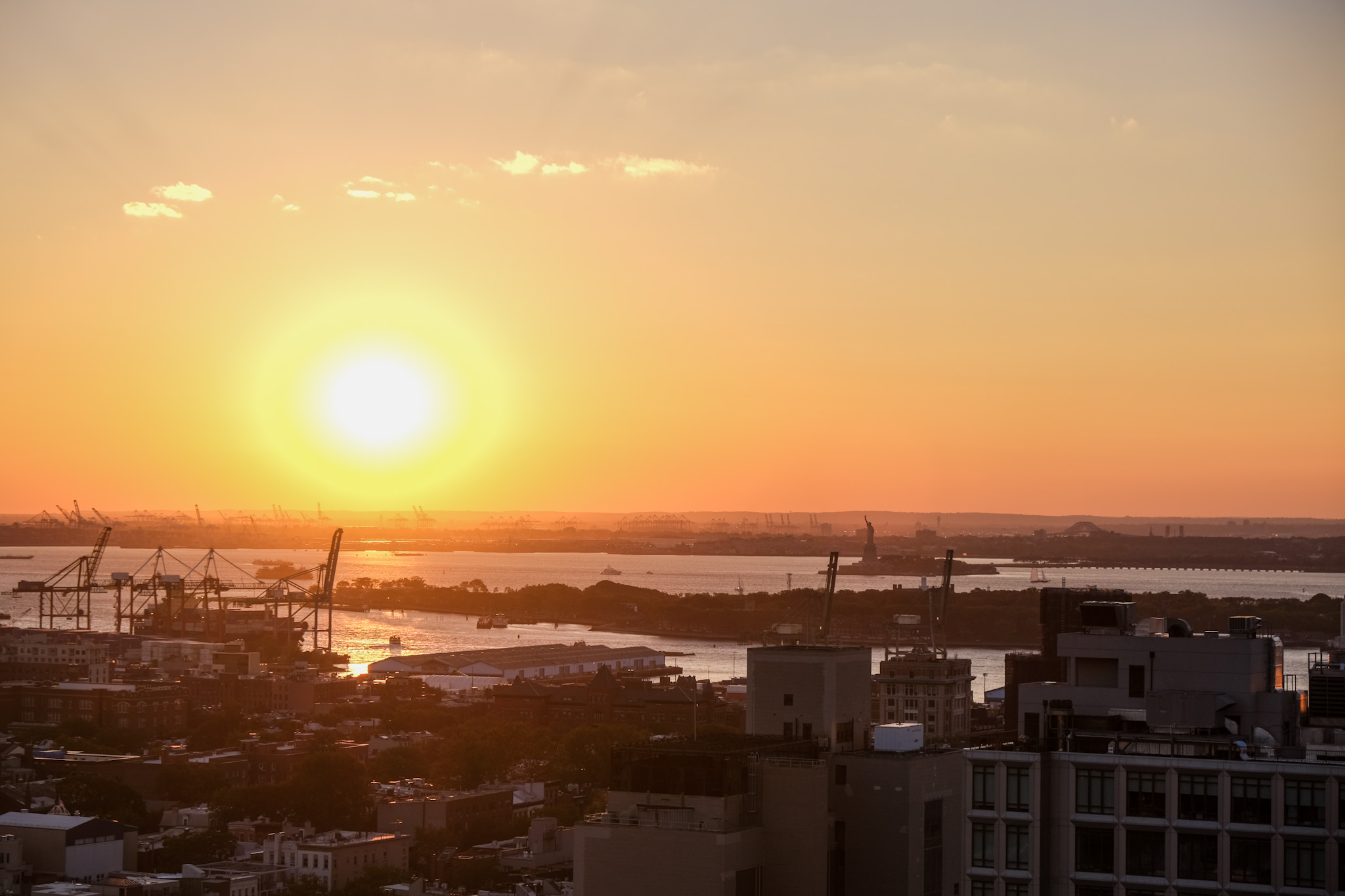 I've been trying for years to commit to learning Lightroom (I'm a Photoshop dinosaur 🦖). The extra time at home finally got me to do some deep dives (and a lot of Youtube tutorials) to learn the ins and outs of Lightroom editing.
👎 Lost Habits & Bad Habits
On the negative side, I totally fell off my reading habit and picked up a video gaming habit.
I started off the year on pace to surpass my reading goal but essentially stopped reading once lockdown started. I replaced my reading time with a lot of more video games than I would have liked. The stress and craziness of the pandemic made me want to turn my brain off and get lost in video game escapism. I did get surprisingly good at Call of Duty – good enough to not immediately die by the hand of a 13-year-old.
👍 Healthier / Better Eating

The many @mostly.edible meals of quarantine
I think I was one of the only one of my coworkers who started eating better meals after we all started working from home. I am super lucky that Laura is an amazing cook and made some amazing meals. The variety of food Laura is able to make is 🤯
One major benefit of this is that the meals were generally healthier than what I'd get at work and was able to control my portion sizes better. This led to some weight shedding – more below.
🤷‍♂️ Work from Home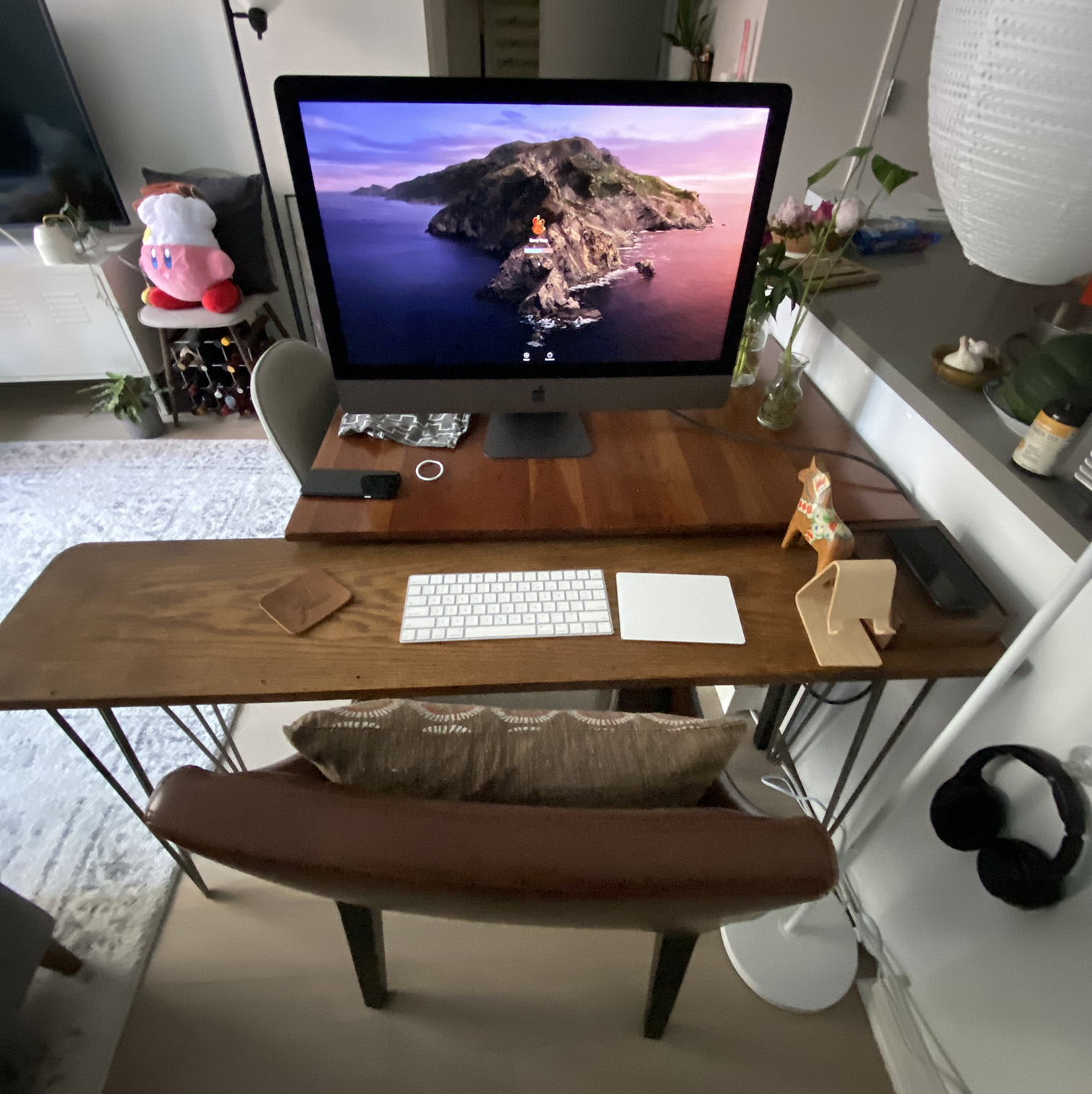 My WFH setup
Speaking of working from home, this was a mixed bag – probably leaning negative. It started off well for me, but the novelty has since worn off. I'm an introvert by nature so I initially enjoyed the quiet and focus time, but am now actually yearning for some face-to-face time with my coworkers. Staring at a video camera/screen is still exhausting and I'm not sure that will get better anytime soon.
On the positive side, I do enjoy not commuting, the time flexibility being at home (time for random chores), and spending more time with my wife.
👍 Deepened Relationships
Being able to see my wife everyday and spend more time together has been the most positive thing to come out of quarantine. We've been together for over a decade but we continued to grow closer during this period. We've also become scarily good at Overcooked and NYT Crosswords.
I've also been able to be more consistent in calling my parents and chatting with them. It's been really nice to slow down and take the time for this.
Another relationship that has deepened is with my best friends through weekly TV show watching. Early on during quarantine, my friend Ryan suggested doing a weekly call for us to watch a TV show together and then spend some time chatting afterward. We've basically done this every week (save for some holidays) since May and it's been great to have consistent time to catch up every week. (Also, would recommend Better Call Saul – we watched every episode over those months).
🤷‍♂️ Trips
I didn't take my first day of PTO until August, when we rented a house in Greenport to escape the city and get in some quiet beach time. I also ended up relearning to drive (more below) and that allowed us to take more local trips. We soaked up the last days of summer at a lakefront house in Connecticut, and spent the fall getting in some good hikes and foliage in the Hudson Valley.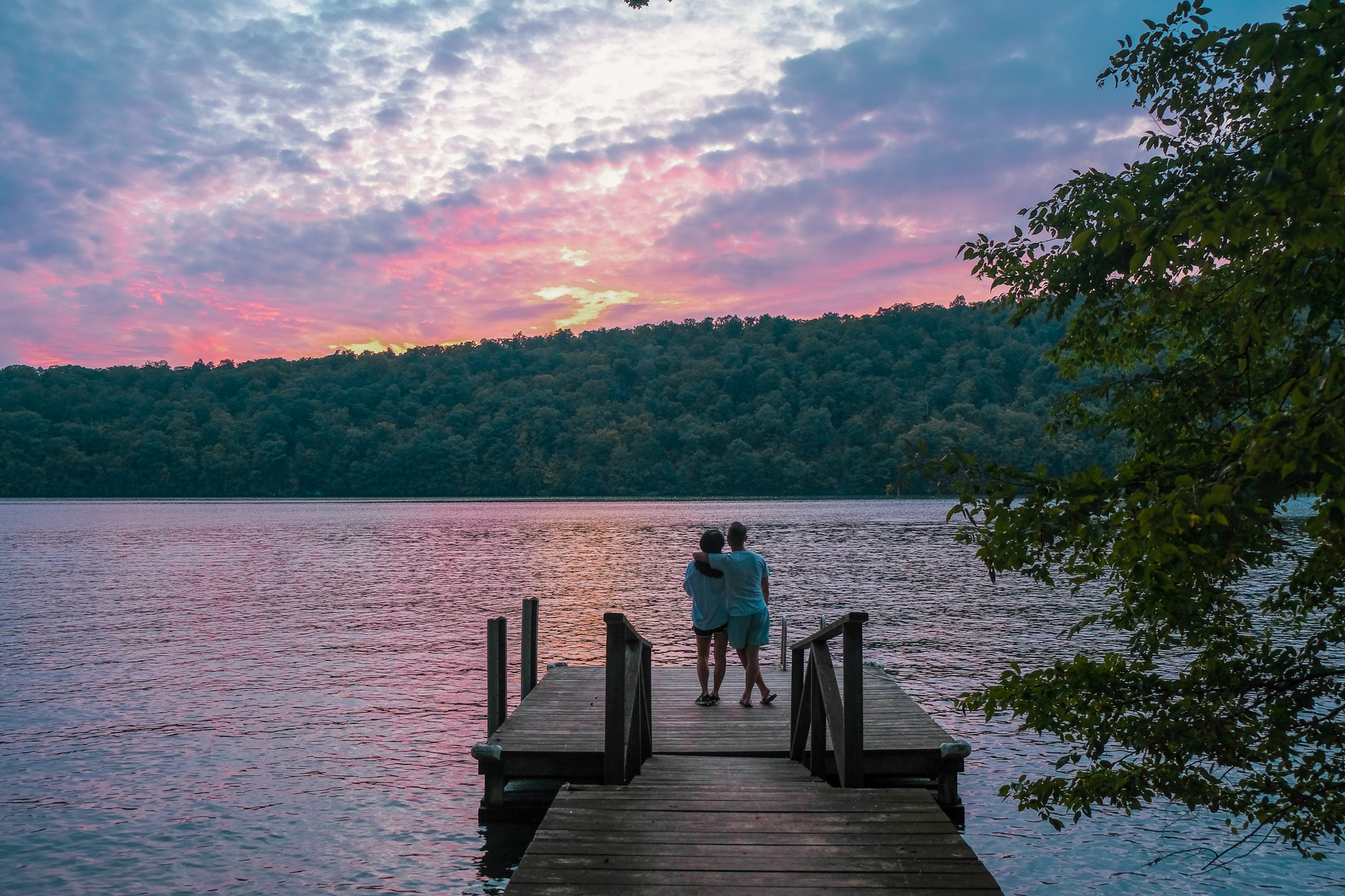 Sunset over Candlewood Lake
---
Work
On the work front, it's been a year of change and the growth associated with it. About halfway through the year, I switched roles within Instagram. We do reviews twice a year and it is a good time to take stock on how everything is going. Things were going well – I had been on my team for two years and was feeling pretty comfortable (as I wrote last year). But at the same time, I knew that comfort was a sign that I had room to challenge myself, to expand my limits and try something new to grow my skillset.
I jumped into a new role working across my org trying to explore areas we may be underinvested in as well as pinch hitting for other teams out where needed.
This new role definitely put me out of my comfort zone, which translated into a lot of learning. I had to simultaneously gaining new skillsets (getting my hands dirty with data) while trying to try to get projects off the ground without a traditional team. It was challenging trying to spin multiple plates while trying to make progress on my projects. All that said, I'm happy with my progress in the recent months and definitely learned more about myself.
I'll be kicking off 2021 with another change – I'll be switching teams again! A really exciting opportunity came up during a recent re-org that I couldn't pass up. Not much to say here but hoping to have some of the things we'll work on will be in some hands in a few months. I'm also really excited to be back on a team again.
Also RIP my desk plants 😭😭😭
---
Ok – let's take a look at how my goals from last year went and look forward to 2021.
Revisiting Goals
Like many of you, I was just trying to figure out how to adapt to the ever-changing normal. To hit any of my goals was an achievement in itself.
❌ - 📖 Reading
I had a great start to this goal and was on pace to crash my (modest) goal of 10 books read this year. By the end of March, I had finished four books.
Unfortunately, once quarantine started, this habit completely went off the rails. It was hard to create and maintain a routine at the start of quarantine and without a commute – my main reading time – my reading habit was one of the first to go.
✅ - 🚴‍♂️ Fitness & Cycling
On the flip side, I was able to clear my 1,000 miles ridden goal – and by some margin. The final tally from Strava was 2,134 miles.
Where my reading habit fell away, my (indoor) cycling habit picked up. My biking at the start of the year was comparable to some of the previous years.
I was stuck inside all day and mostly sedentary so I bought a bicycle trainer for our NYC-sized apartment. This did wonders for my physical and mental health. My mileage really started ticking up.
All of this culminated in a century I did at the end of September. After that, a combination of feeling burnt out on the bike and a busy period of work kept me more or less off the bike until December. I ended the year 2,134 miles - just 50 miles short of my 2017 high of 2,184 miles.
When not riding my bike, I did some Peloton or other HIIT workouts with Laura. We even had a bunch of weeks in a row of Dance Church Sundays with friends over Zoom in the spring.
On top of that, Laura's cooking was healthier than what I had been eating at work. In all, the biking, the workouts, and the better eating led me to lose nearly 20 lbs from my heaviest point in February.
Eating better wasn't the only thing that helped. I started tracking every alcoholic drink that I had in 2020 and – after being horrified by my January and February consumption – cut back a lot.
I did hit a plateau in August, however. A few things happened around then: I started my new role (and the stress that came with it), I burnt out on TrainerRoad and started riding less, and might have over-indulged on our first trip out of NYC.
❌ - 🤖 Machine Learning
I unfortunately didn't get much past the starting line on this one. I went through some contrived tutorials, but not much further than that. I do still want to learn this, but I don't feel as strongly as I did when I wrote last year's post.
✅ - 🚗 Driving
I'd never regularly driven since I got my license since I never needed to in NYC. At some point, last year, I decided I should refresh my skills and get more comfortable driving again. Being driven around by friends and family when we needed to get somewhere by car as a 30-something didn't seem quite right.
I had my first lessons scheduled for March...which obviously didn't happen. I ended up doing my lessons in August. This has been a huge improvement to our quarantine life as we've been able to take some hiking trips and minimize taking the subway.
In all, I drove about 1,050 miles this year – about 11-12x the amount I had driven in my life up until then.
Looking Forward
One framing I want to change for myself this year is flipping from focusing on goals to creating habits. Many goals are simply representation of habits we want to create.
That said, before getting to habits, I do still want to set a few goals:
🚴‍♂️ Cycling – I want to keep pace with my cycling. I'm aiming to hit a ~25% increase to 2,500 miles ridden
📚 Books – I want to get back on track for this. I'll be aiming for a book a month.
█ ███ █ ████ – █████ █████ ███ █████ ██ ███████, █ █████ ██'██ █████ ██ ███ █████ ████.
█ ████ ███ ██████ – █ █████ ██ ████ ████ █ ████ ████████ ██ ████ ███ █████ ████ ██ █████ █ ████ ████ ███ █████ ███ █████ ████ ████.
Habits
Setting big goals isn't super helpful without breaking it down in how it'll get done. Some folks use the OKR technique while others use habit stacking or the Seinfeld Method.
I'm going with forming small habits – ridiculously small – and then increase the scope and ambition. I find I sometimes get stuck in the "where do I even start" stage when trying to achieve goals. Forming these small habits will hopefully help me progressively "ladder up" to a larger one.
In any case, on to the small habits I'll start with!
Do a workout – 3x/week
More specifically, either a 7-minute workout or a TrainerRoad (cycling) workout.
At some point, I was doing 5-6 workouts a week (almost every day in May!) but started falling off that pace in August.
Write a tweet length journal entry – 3x/week
This is something that I've always wanted to do but always failed at. I would always start and inevitably would fail. I'd always feel pressure to write a long entry. After a long day of work, the last thing I wanted to do was to do more work to reflect on how hard the day was. That would just suck more energy.
To change this, my friend Tian had a great idea of journaling just long enough to fit in a tweet. This prevents it from feeling laborious (and is more productive than actual tweeting 🙂)
Skip dessert – 2x/week
One habit I picked up during quarantine is having a dessert after dinner. It started off as a small little treat amidst the stressful, unknown, and confusing parts of lockdown. It grew to the point where I'm having it every day
Instead of quitting cold turkey, I'm going to simply try to reduce it. Hopefully, once this gets easy, I can increase this number
Firebreak – 30 mins, 2x/month
A blog post I read this year that made a huge impact on me this year was this post titled "Firebreaks and Rapid Repairs". I highly recommend reading it.
The gist of it is that, so often, we spend our days just trying to survive and end up unconsciously forming (often bad/less effective/stressful) habits and never making time to identify and reflect on those. Continuing on this autopilot continues to fuel these unconscious habits and allows them to gain momentum.
Creating time for a "Firebreak" basically sets some time aside to inspect all of these unconscious behaviors that you've gained and explicitly decide to keep or change them. This allows for "rapid repairs" – nipping it in the bud before it gets too hard to change.
█████ ████████ ███ █████, 1 weekday/week
█'██ ██████ █ ███ █████ ██ ████████ ████ ██████ ████████, █████████ ████████ █████ █ ███. ████ ██ ███ ██████████.
████ ████████ ██ ████ ████████ ██ ██████████ ██ ████████████ – 1x/week
█ ████ ██ ████ ████ █ ████ ████ ████ ████ ███ ██████:

██████ ████████ ██ ████ █████
██████████ ██ ██ ███ █████'█ ████████████
████ ███ ██ ████ ██ █:████, 1x/week
█'██ ██████ ████ ███ ██ █████ ██ ████ ██ ██████, ██ █'█ █████ ██ ███ ██ ██████ ████
---
As 2021 kicks off, I'm anxious and hopeful for what's in store this year. We start the year still in the throes of the pandemic, working from home, and mostly staying in (NYC winters don't lend well for outdoor activties).
There is hope though. Now that the vaccines are approved and rolling out, there is hopefully an end in sight, even if the end is a bit further away than we'd like.
Here's to hoping 2021 is better than 2020!
---
Appendix
Here's some extra data I analyzed but didn't know where to put inside the post.
Sleep
I started tracking my sleep consistently this year through WHOOP and then through my Apple Watch (I got rid of my WHOOP). The results were unexpected – my sleep and wake times were a half hour later than what I expected. On a typical day, I went to sleep just past 1am and up at 8:45am. This was true even if we exclude weekends.
Instagram Story Posting
I wondered whether being home and quarantine resulted in my posting fewer Instagram Stories. I posted 26 fewer days in 2020 than I did in 2019 - a 9.3% drop. Even more stark, I posted 29% fewer Stories in total.
Interestingly, the months where I posted fewer days were concentrated only in two months - September & October. By contrast, I posted fewer Stories every month except for Janury and December of 2020. It'll probably be easier to show in a column chart - I may update this post later with those.